Perhaps it's because I haven't posted or written about it, or because my Facebook/Instagram posts were relatively unclear, but people are still asking: "Man, you got a third dog?" "Did you really get a third dog?" "How did you decide to get a third dog?"
So here's the details (to which Dan may or may not fully agree).
About once a year, I find a dog that I love. There was Blue in Indiana in December 2014. There was a black-and-tan mix in West Texas in 2015. Over the summer, I added my name to the waitlist for a puppy from Lynches River Carolina Dogs. In November, I told Dan I should get bonus points every day I didn't bring a puppy home.
I'd been texting Dan pictures of puppies. "This one?" "What about this one?" "We could foster." "Did you see the texts I sent you?" I'm not quite sure I fully communicated my seriousness.
Bogart, Stray 4115, showed up at Gaston County Animal Control. I'd been thinking that once a possible black and tan Carolina Dog (CD) showed up there, I would just get him. They find CDs a lot; it's the right part of the country, close enough to a lot of open land. He was listed as a shepherd mix, 30 lbs., and 8-12 months old.
I compared him to a picture I saved on my phone for reference; black and tan CD puppies are hard to identify, so in one of my puppy-searching-internet-rabbit-holes, I asked a friend how he identifies them (as he works with a CD-specific rescue). He sent me a picture, and told me that he looks for perfectly symmetrical spirit eyes (tan/buff dots above the eyes), a mask that has a distinctive black stripe down the nose bridge with gradations of black to tan to buff on the sides.
See the photos below. From left to Right: a Kelpie (@kelpiesofficial on Instagram), a CD puppy (from a friend), an Australian Dingo (@dingo_den_Animal_rescue on Instagram). None of them are Bogart, but I see him clearly in every single one of these pics.
So Bogart fit all of those criteria, and I drove out to the shelter after work on the day he was "released," meaning he was off the animal control hold period and available for adoption. He had five to ten days before he would be euthanized if not adopted; Gaston County Animal Control is a high kill shelter.
I called Dan, "Did you know there's a Dallas, North Carolina?" I explained that I might be on my way to look at a dog; I'd texted him the picture earlier in the morning. #4115 might be euthanized as early as the following Wednesday, and it was Friday, and they weren't open over the weekend, and if he might be a CD, I might get him.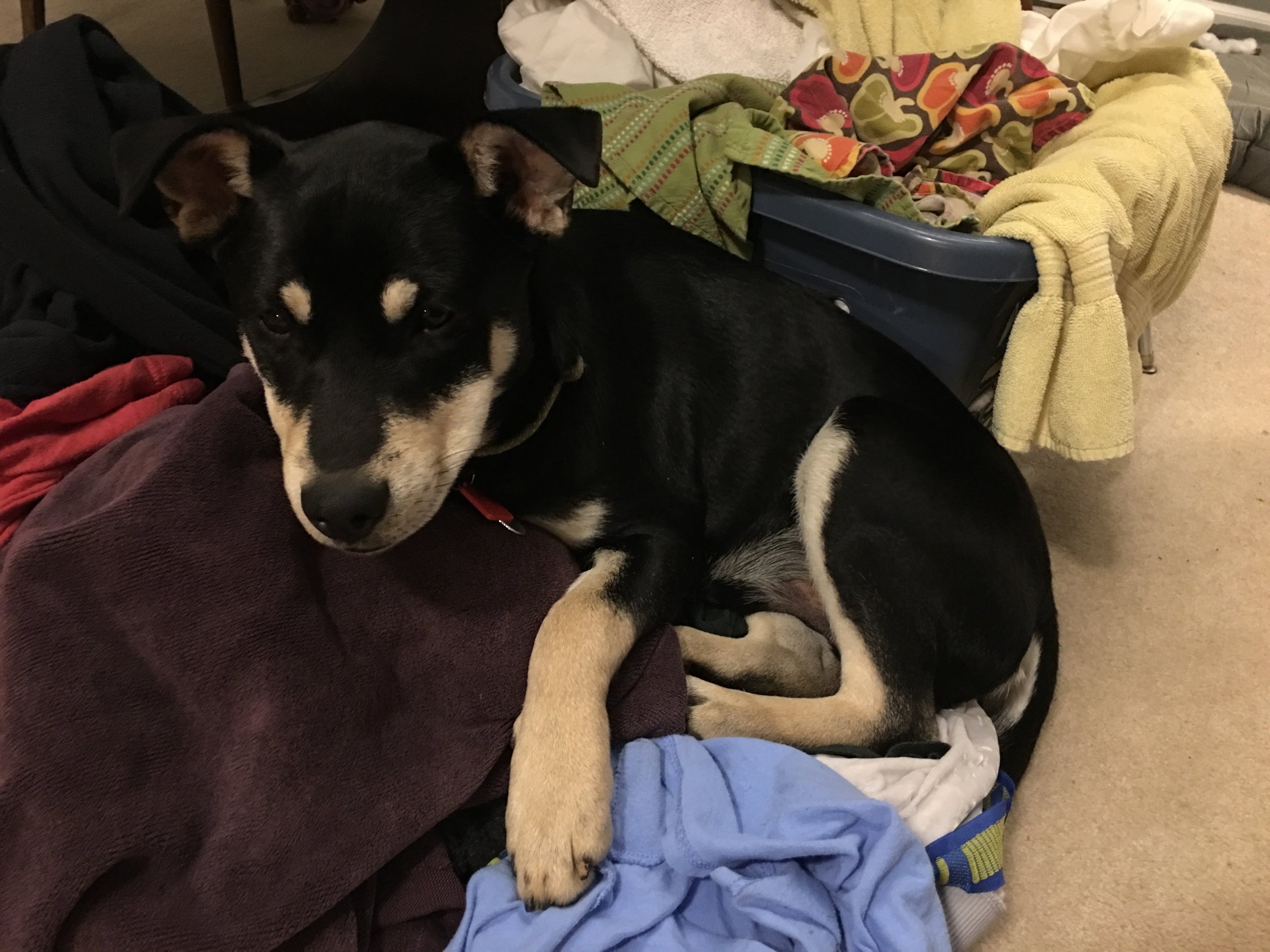 When I pulled up there was a huge, mangy Rottweiler walking on a leash. I worried that this was the cute puppy, that the photo was completely wrong, that all black-and-tan dogs are Rottweilers.
Nope. That wasn't Stray #4115; Bogart was cute. I took him on a walk around the shelter, brought him inside and paid for him, and took him on a one mile walk. I tried to video him, to take photos, and everything was blurry. He was scared and sad, and he tail wouldn't wag. I got a few hops out of him when we ran.
And really, that was that.
The worst part was that he was stuck there all weekend. I couldn't take him home until Monday, and by Monday night, he was neutered, had all his shots, and was starving. The first few days were probably the worst because he didn't trust that he would get food or stay warm or anything.
We've had him for almost two months now, and he's a silly, busy dog. He seems more Kelpie than Carolina Dog, but that's okay. He loves to play fetch, and we haven't found any problems we can't solve with positive reinforcement. Yet.