I'm getting really excited about doing some larger house projects this summer, but before I get to those, here are some smaller decorating updates I got to do during the semester!
The Den -
We finally got around to hanging pictures on the walls, and since having a coffee table blocks the flow of the room, I collected some great side tables!
For the collages: I just freehand them. If they look unbalanced, you'll know in a few hours, and then you can re-sort them. (Yes, I've always gotten in trouble for all the nail holes in the walls. #dontcare)
For the end tables: Around the comfy chair are two two new ones at HomeGoods. The off-white one I actually found on clearance and has a built in cord holder, charger, etc. There's a small dent in the side, but if you live like I do, everything gets dented eventually anyway. The round metal one is just kind of funky, and I got it because if it didn't work here, it would have worked in our entry way. Next to the couch is an old end table from Pier One which actually opens up to the side and faces the kitchen. One the other side is an Ikea cart; when Dan leaves his stuff out, I put it in his cart. That means it's usually filled with unopened mail, but it's a perfect compromise and super handy.
Kitchen Cafe and Mud Room
In our last house, we were spoiled with a mud room. In the Blue House, we don't have one, so we had to make this space work.
This space is fun. It's decorated in a cafe-esque style with my favorite chairs and a table with drop down sides. Dan's salt and pepper shaker collection is one the wall as are a bunch of our fun kitchen prints, including some prints from St. Louis favorites: Volpi's and Vivano's. There's also a bench full of a lot of crap (grocery bags, bug spray, dog leashes) and the coat rack that is also currently displaying all of our race medals. We come in the side door, so we had to have a place to drop our stuff. It turned out pretty functional.
The Dog Room (AKA My Dressing Room)
We have two upstairs bedrooms; one is a guest room, and we don't really have a current use for the other right now. So I made it a dog room/dressing room!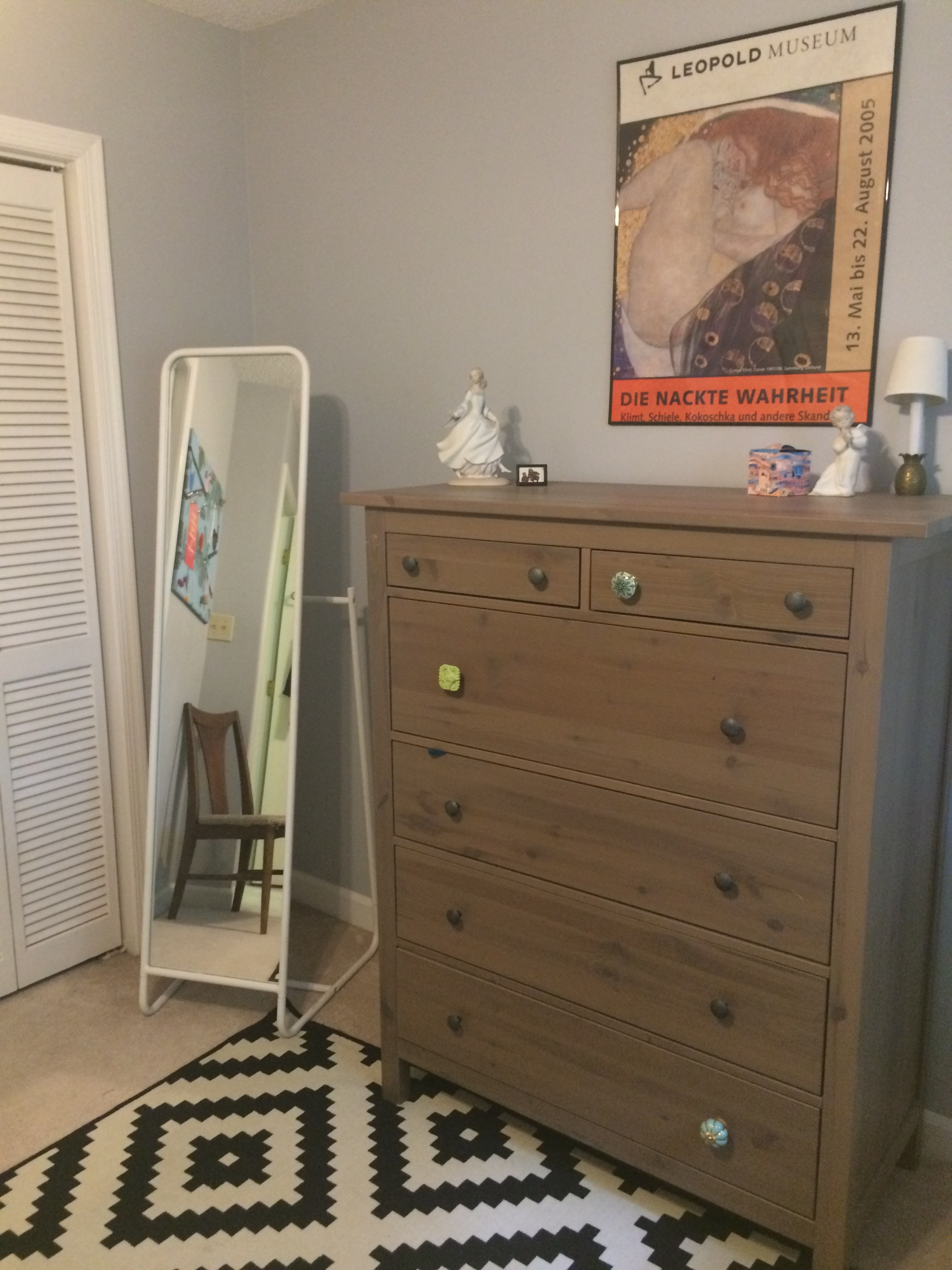 So I didn't include a picture of the dog crates, which are also in this room, because it didn't seem necessary. But the Ikea carpet and dressers work well up here, and make it really for me to get dressed. I found some funky Frida Kahlo inspired curtains on Modcloth that work really well, too! Also, some of the dresser knobs broke in the move, so I started collected funky ones. One day, all the knobs will be fun!
The Upstairs Bathroom
Currently, the upstairs bathroom has baby blue title and mint green walls. It is not gorgeous. However, I found this shower curtain that makes it work! It was a lot easier than painting, and it'll do for now!
Fun, right!? I really cannot wait to get into my summer schedule; then I'll have time to get crafty and creative!