We love pupsicles in August, and that's why we repost this recipe every summer.
I mean, what's better for a pup in the spring than an afternoon in the yard chasing squirrels and enjoying a pupsicle afterwards?!
No really, pupsicles are an easy dog treat that that hoomans can make with just a blender or food processor. And the homemade version is much more economical than the ones available in the freezer aisle of your local grocery store.
Ingredients (for twelve approximately 1/4 cup sized pupsicles)
32 oz. of plain nonfat yogurt

16-18 oz. of creamy peanut butter

12 extra small (approximately 1/4 cup) sized BPA-free plastic containers

Food processor or blender
You'll also need some common tools from your kitchen like a rubber spatula and a spoon.
Note: My hoomans buy the cheapest products possible in my local stores. There are easy ways to upgrade your pupsicles depending on your pup's tastes or needs: Greek yogurt, chunky peanut butter, etc. You will need lids for your plastic containers, although they are not pictured here.
Caution: Some peanut butters contain the artificial sweetener xylitol which is extremely toxic for dogs. Check the ingredients!
Procedure:
Layer yogurt and peanut butter in the food processor or blender. (Begin with yogurt so that less peanut butter sticks to the blades.)
Blend until thoroughly combined and smooth. The color should look similar to that shown below.
You can add some water if you want to stretch the recipe a little bit.
Seriously, that's it.
Finishing up:
Spoon/pour the mixture evenly into the plastic containers.
Cover with lids and freeze. (Or just serve them as is: pup-gurt.)
Don't Forget:
These are treats. They should not be served as a meal.
Carefully check the yogurt and peanut butter to make sure neither contain ingredients that are toxic for dogs.
Supervise your dog until he/she has finished his/her pupsicle.
Do not let your dog eat the plastic containers.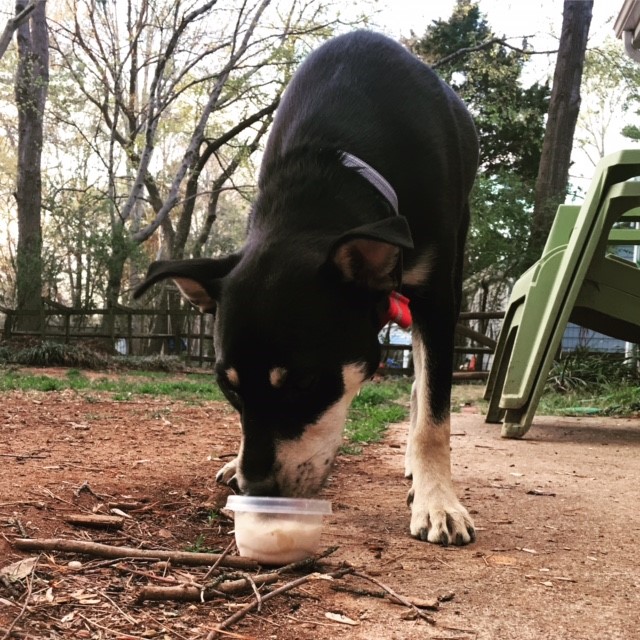 Bogart loved his first pupsicle!
He's an expert pupsicle-eater now.