2017 Reading List
These are the books I finished in 2017.
(Nope, this is not in MLA format. And it's not organized by author's last name. I'm totally abandoning my inner English Prof and embracing my love for reading.)
Barkskins by Annie Proulx (Simon and Schuster Audio 2016)
Dan and I joked that this was the epic of Canada, but really it's more than that; it spans the whole glob. Read it, and watch out for the wig.
Before the Fall by Noah Hawkings (Grand Central Publishing 2017)
Before We Were Yours by Lisa Wingate
Behind Closed Doors by B. A. Paris (B. A. Paris/W F Howes Ltd 2016)
Behind Her Eyes by Sarah Pinborough (Sarah Pinborough/Macmillan Audio 2017)
Behold the Dreamers by Imbolo Mbue (Random House Audio 2016) / Levine Book Club Pick
This book pretty much addresses everything: immigration, Africans in America, the 2008 financial crash, socioeconomic concerns. I highly recommend it. Read my blog about the most timely books this year.
Bricking It by Nick Spalding (Nick Spalding/Brilliance Audio 2015)
Elenor Oliphant Is Completely Fine by Gail Honeyman
Excellent Women by Barbara Pym (Barbara Pym/Blackstone Audio, Inc. 2016)
Exit West by Mohsin Hamid
The Flood Girls: A Novel by Richard Fifield (Richard Fifiel/Blackstone Audio, Inc 2016)
A Gentleman in Moscow by Amor Towles (Viking 2016) / Levine Book Club Pick
I loved it. Basically, Count Alexander Ilyich Rostov is restricted to a closet-room The Metropol Hotel because he was associated with a revolutionary poem. (Yep! Didn't even actually write it.) Not only does he continue to act like a gentleman, while becoming a custodian for hotel, but he falls in love with a beautiful actress and raises the daughter of an old friend.
Gilead by Marilynne Robinson / Levine Book Club Pick
Obama loved it. I just didn't. I really tried though.
The Girl Who Drank the Moon by Kelly Barnhill
This book is so magical. Really. It's a YA fairy tale that filled me with wonder and delight.
Handmaid's Tale by Margaret Atwood / Sci-Fi Book Club Pick
(Sci-Fi Book Club Pick) OMG. Read (or re-read, in my case,) this book and watch the series on Hulu. You have to. Start right now.
The Hate U Give by Angie Thomas
Homegoing: A Novel by Yaa Gyasi (Random House Audio 2016) / Levine Book Club Pick
The Horse Dancer by Jojo Moyes (Jojo Moyes/Penguin Audio 2017)
Into the Water by Paula Hawkins (Paula Hawkins/Penguin Audio 2017)
Lilac Girls by Martha Hall Kelly
Lincoln in the Bardo: A Novel by George Saunders (Random House 2017) / Sensoria 2017 Featured Author
Okay, so George Saunders came to CPCC for our arts festival, Sensoria. I'm not kidding. He was kind and generous, and, in a workshop I was privileged to attend with him, he basically solved all of my writing problems. Lincoln in the Bardo is excellent; it plays with the narrative structure, and tells the compelling story of how Lincoln dealt with the death of his son. And there are echoes of Buddhism and Dante. What could be better? Also, check out my blog post about his infinite wisdom.
Little Fires Everywhere by Celeste Ng
Little Women by Louisa May Alcott
I curled up one weekend after my Aunt Sue passed away and read this. We read the book, watched all of the versions of the movie, and visited the Alcott's home in Concord, MA.
Luckiest Girl Alive by Jessica Knoll
Manhattan Beach by Jennifer Egan
My Husband's Wife by Jane Corry
My Not So Perfect Life by Sophie Kinsella (The Dial Press 2017)
Molloy by Samuel Beckett
Holy paragraph, Batman!
Pretty Girls by Karin Slaughter (Blackstone Audio, Inc. 2015)
Reconstructing Amelia by Kimberly McCreight
The Rules of Magic by Alice Hoffman
The Secrets She Keeps by Michael Roboham
Swing Time by Zadie Smith
Sycamore by Bryn Chancellor / Sensoria 2018 Featured Author
Levine Reads book of 2018! She will also be reading and hosting a craft workshop with CPCC students during Sensoria 2018.
Spoonbenders by Daryl Gregory
The Tea Girl of Hummingbird Lane by Lisa See.
I love this book so much. It's completely captivating: the setting and the characters.
Turtles All the Way Down by John Green
The Underground Railroad by Colson Whitehead (Random House 2016) / Levine Book Club Pick
Vanishing Acts by Jodi Picoult (Simon & Schuster 2016)
The Wanderers by Meg Howrey (Meg Howrey/Penguin Audio 2017)
What Alice Forgot by Liane Moriarty (Liane Moriarty/Penguin Audio 2011)
The Widow by Fiona Barton (Fiona Barton/Penguin Audio 2016)
Woodwalker by Emily B. Martin
Dublin Murder Squad by Tana French
Broken Harbor
Faithful Place (Tana French/Recorded Books, LLC 2010)
Red Sparrow Trilogy by Jason Matthews
This is the best espionage series I've started in a really long time: Russians and CIA, recipes for every covert op, fated love. What more could you want?
Red Sparrow
Palace of Treason: A Novel
Nonfiction
Braving the Wilderness by Brene Brown
Brown's ideas just keep appearing everywhere in my life. This is an incredibly timely book.
The Chicken Chronicles by Alice Walker
That's it. I want to be Alice Walker.
Four Agreements: A Toltec Wisdom Books by Don Miguel Rui
Living with Rheumatoid Arthritis (A Johns Hopkins Press Health Book) by Tammi L. Shlotzhauer
Ordinary Light by Tracy K. Smith / Sensoria 2018 Featured Author
I get to meet her in April 2018! Check out CPCC's Sensoria schedule.
Wired to Create: Unraveling the Mysteries of the Creative Mind
Seeing in the Dark: Myths and Stories to Reclaim the Buried, Knowing Woman by Clarissa Estes (Sounds True 2010)
I've read this book quite a few times. My aunts turn to it whenever they need strength, and recently, I've need some strength. It does so much to remind me of the mythical power of the woman.
You are a Badass by Jen Sincero (Running Press 2013)
Poetry
Beneath the Bamboo Sky by Irene Blair Honeycutt (Main Street Rag 2017)
I have the wonderful privilege of knowing Ms. Honeycutt, and she is a wonderful and gracious woman. This book, with "poems and pieces on loss and consolation," was exactly what I needed when I read it. In the book, she deals with the loss of her bothers, as well as reflecting on childhood, understanding, joy, and friendships. (Irene is the founder of CPCC's Literary and Arts Festival: Sensoria. And the co-chair of the Sensoria Literary Committee--Amy Bagwell--, and I work hard to carry on her legacy.)
The Cineaste by A. Van Jordan (Norton 2014)
The Door that Always Opens: Poems by Julie Funderburk (LSU Press 2016) / Sensoria 2017 Featured Author
As I am fairly obsessed with imagining new lives for abandoned places in my own writing, this book spoke to me as Funderburk does just that: imagines the lives of abandoned places. (Julie is also a wonderful person, and we had the pleasure of hosting her at Sensoria.)
Penumbra: Poems by Michael Shewmaker
I love this; I just keep reading it.
Waging War as the Polar Bear Dreams of Ice by Daniela Gioseffi (Poets Wear Prada 2017)
I'm Daniela Gioseffi's literary executor, but I promise that this isn't just shameless self promotion. I doubt there is any other collection of poetry so important for our times as this one, especially when it comes to addressing the threat of climate change. Her verse is spellbinding and electric; these poems showcase Gioseffi's unique diction, her musicality, and the immediacy of her worldview. The poems in this collection are not doomsday declarations, instead they are hopeful, a call to action. Our sensibilities must become "big hearted, witty, and wide-eyed," and we must understand our connection to nature to save our planet, as Gioseffi's verse prompts us.
Everything Else
Big Mushy Lumb by Sarah Anderson
Basically, Sarah Anderson gets me. Completely. I love all of her comics, but this one does a great job of addressing anxiety and depression.
Heart and Brain: Gut Instinct by The Awkward Yeti, Nick Seluk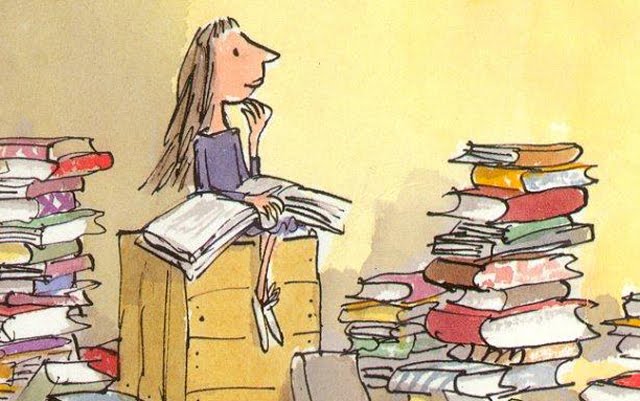 "20 Problems Only Book Lovers Will Understand"
"Having a book fall on your face because you're reading on your back while holding the book up." - (Goodreads - Click for the full article.)